Wooden footpath / deck / footbridge
Produce a comfort space in city parks, natural parks, waterside areas, etc.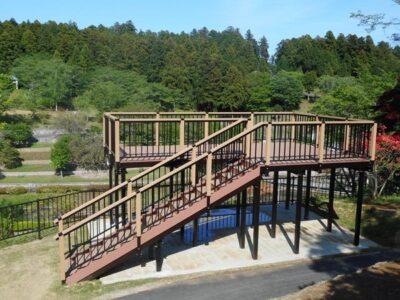 Outline
Even in the sea, mountains, rivers, in any kind of natural environment, decks and footbridges have been developed. It creates a good scenery development without spoiling the surrounded landscape and gives good atmosphire both in the country side and urban environments.
Plastic wood and wood-plastic composite Kankyo-wood II have good advantage in design and construction with  light property of the materials, also able to extend their life time.
Especially, steel pipe pile driving type foundation, C-LESS® foundation is a hand-type construction method that does not require major earthwork. MAEDAKOSEN has many experiences in the areas where precious plants and organisms inhabit with this C-LESS foundation method which has no worry to harm the environment.
Wooden footpath/ Deck examples (YouTube)
Related products / construction methods