We, MAEDAKOSEN Group strives to provide products and services that meet the needs of users while complying with legal and regulatory matters and the "Quality Basic Policy" formulated by the Group, with the aim of improving corporate value and customer satisfaction.
MAEDAKOSEN Group Quality Basic Policy
All for the highest quality in the world
We deliver the world's highest quality products and services that contribute to the creation of a safe, secure and prosperous society.
Guidline for Quality Code
We will comply with laws and contracts.
We challenge endless possibilities for the highest quality in the world.
We will identify and solve the essence of the problem in the field, in kind, and realism.
We create the highest quality by mixing our unique wisdom and solid technology.
We will continue to learn to improve quality.
Acquired ISO9001 certification
MAEDAKOSEN has acquired ISO9001 certification at its Fukui Headquarters Factory, Maruoka Factory, Sabae Factory, Notogawa Factory, Nishinomiya Factory, Kasuga Factory, and Sakai Factory as part of its quality control efforts.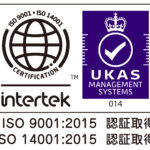 | | |
| --- | --- |
| Management system | Quality control:ISO9001 |
| Acquired places | Fukui Headquarters Factory, Maruoka Factory, Sabae Factory, Notogawa Factory, Nishinomiya Factory, Kasuga Factory, Sakai Factory |
| Applied standard | ISO9001:2015 |
| Registered on | September 4, 2000 |
| Certified by | intertek |