1.

Diversified management based on the venture spirit

We have applied the technology cultivated in our original textile processing to construction materials, and have taken on the challenge of developing the social infrastructure market with new materials such as fibers and resins.In the field of construction materials, we have pioneered a wide range of product fields such as roads, rivers, concrete structures, slopes, and greening.We are also diversifying beyond the construction materials field, and are developing new businesses one after another in fields such as automobiles, agriculture, fisheries, and defense. Our diversified management is based on the venture spirit of entering the market speedy without fear of failure in order to quickly resolve social issues that accompany changes in the times.Sustaining the venture spirit is essential for the growth of the Group.
Social infrastructure business
Developing manufacturing and sales businesses for construction materials, dairy / agricultural materials, animal damage control products, non-woven fabrics, canvas fabrics, fish meal / fish oil, etc.
Industry business
Manufacturing and sales of wiping cloth for precision equipment, and development of plying processing business for clothing and various industrial materials and developing light alloy forged wheels business for automobiles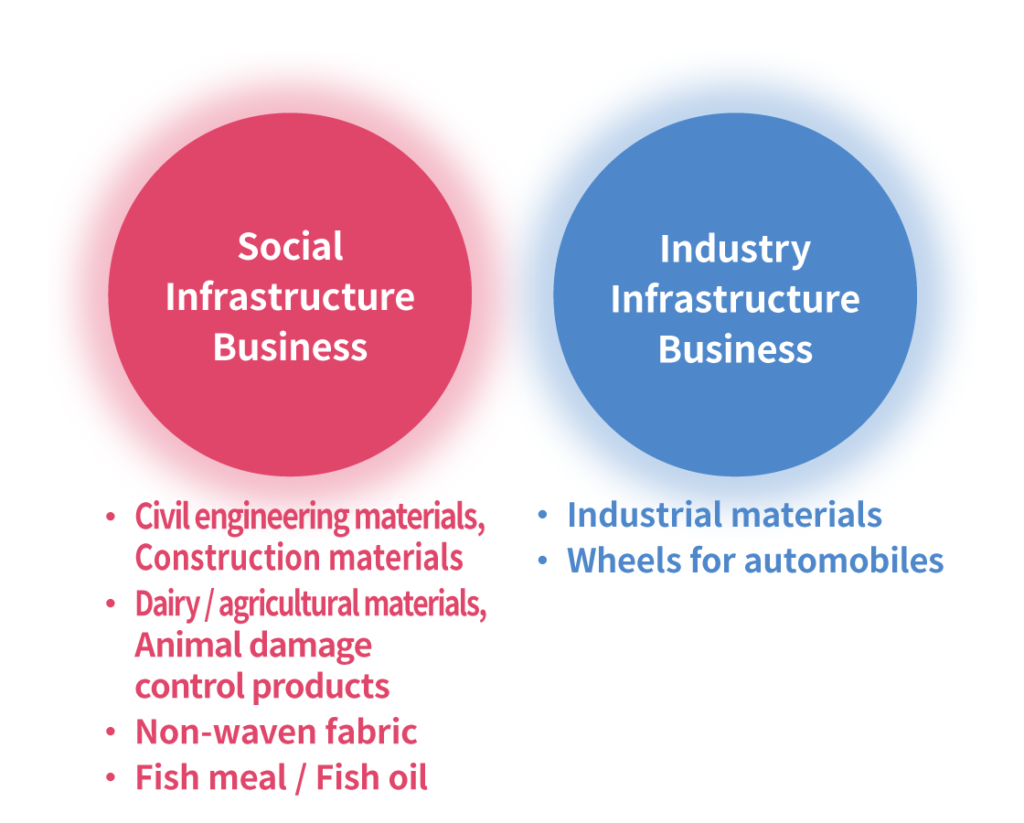 2.

Growth driven by regional revitalization

In local sity in Japan, there are many "manufacturing companies" with world-class technologies and know-how.However, many local companies have problems with market development, technology succession, and human resource utilization due to problems such as the size of the company and the aging of business owners.
By utilizing M & A, we solve these problems by "mixing" the management resources of the Group, such as customers, technology, and manufacturing, and lead local companies to growth.Building a win-win relationship with each other while maintaining employment even after M & A has been carried out has led to the revitalization of local areas.
* Since 2000, we have carried out M & A of 14 companies.
M&A record(after 2000)
Year of acquisition
Company name
Location
Main business
2002
Ohta Kogyo


*Merged with MAEDAKOSEN

Hyogo
Manufacture and sale of oil diffusion prevention material
2004
Zeon Environmental Materials


*MAEDAKOSEN takes over the business

Tokyo
Plastics wood, manufacturing and sales of road materials, sales of imported geotextiles
2005
Nippon Non-woven Fabrics


* Nippon Non-woven Fabrics takes over the business and merges with MAEDAKOSEN

Shiga
Manufacture and sale of various non-woven fabrics
2009
Sun Green


*Merged with MAEDAKOSEN

Hokkaido
Manufacture and sale of  greening / vegetation products and thinned wood products
2009
Magne Corporation


*Merged with MAEDAKOSEN

Fukuoka
Manufacturing and sales of multifunctional special polymer cement mortar
2011
Kitahara Denboku


*Current MIRAI no Agri

 
Hokkaido
Manufacturing and sales of animal damage control products, electric fences, and grazing facilities
2012
Technos


*Current Mirai Kosen

Fukui
Manufacture and sale of wiping cloth for precision equipment manufacturing
2013
Washi Kosan, Washi Beam


*Current BBS Japan

Toyama

Manufacture and sale of light alloy forged wheels for automobiles

2014
Daiichi


*Merged with Mirai Kosen

Ishikawa

Polyester yarn false twisting for clothing and industrial materials, circular knitting

2015
Ogawa Techno


*Mirai Techno takes over the business

Iwate
Manufacture and sale of tents / personal equipment, marine civil engineering products, and thick canvas fabric products of the Ministry of Defense
2016
Green System


*Merged with MIRAI no Agri

Fukushima
Gardening house, manufacturing and sales of agricultural materials
2018
KUSHIRO Highmeal
Hokkaido
Manufacture and sale fish Meal and fish oil
2019
OKINAWA KOSEN


* Company establishment

Okinawa
Manufacture, sale and rental of civil engineering materials
2021
SK Electric


*Merged with Mirai no Agri

Hokkaido
manufactures and sells electric fences and sells dairy products
2021
Seven Chemical
Tokyo
manufactures and sells highly functional waterproof materials and protective / finishing materials for outer walls
3.

Providing optimal solutions by the best manufacturer personnel

In our group, the thinking process of "OODA (O: observation O: situation judgement D: decision making A: action)" is pervasive, and we proactively solve various social issues by responding swiftly.For example, we developed a decontamination waste storage bag in the event of the Great East Japan Earthquake, developed a swine fever invasion protection fence for wild animals in the event of classical swine fever (CSF) infection, and used non-woven fabric for medical gowns and shelters as a countermeasure against coronavirus infection. By organically "mixing" the abilities and experiences of our group employees, such as developing tents, we maximize the strengths of our employees and provide optimal products that meet social needs in a timely manner. In addition, we continue to provide in-house training to develop the best manufacturer human resources, and there are many qualified personnel with advanced expertise.