Basic Philosophy
Good connections between people are the basis and the goal.
Management Philosophy
We will contribute to the creation of the sustainable earth and a safe, secure and prosperous society with our unique wisdom and technology.
Action Philosophy
For the realization of ideal social figure as it should be, MAEDAKOSEN is putting into practice five action guidelines as its mission.
MAEDAKOSEN has over the years endeavored to put into practice the principles of Justice, Courage, Sincerity, Wisdom, and Courtesy in our day-to-day work. With the strength of knowledge and experience of "fiber" products as our starting point, we have long supported building of a safe, secure, and beautiful nation. Moving forward, we continue to create new value by utilizing our unique wisdom and technology to contribute to the development of society.
"Five MDK virtues", "Benevolence" and "Inseparability of knowledge and practice."
Justice : Both people and corporation should live straight.
Courage : Infinite possibility should be sought without being afraid of making a mistake.
Sincerity : The true nature of the field should be discerned in and at the field, shall be changed, improved with and by full commitment of individual.
Wisdom : Create new products that are found nowhere by and through methods never been tried before.
Courtesy : Both people and corporation should continue new learning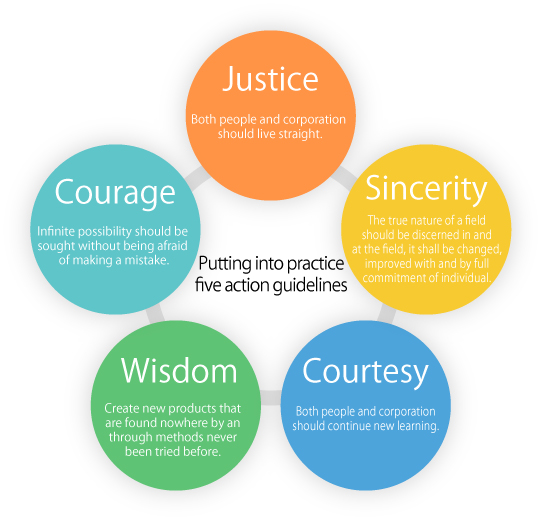 Action guidelines
To create a company (organization) with "Truth / Goodness / Beauty"
=Truth = "Learning" Let's know the truth
=Goodness = "Morality" in a workplace without complaints.
=Beauty = "Cleanliness" Keep the factories and workplaces clean.
Judgment criteria
Let's judge and act according to this priority.