Through business activities considering the global environment
We are working on environmental conservation and reduction of environmental load
MAEDAKOSEN is engaged in environmental activities based on the following "Environmental Policy" with the aim of balancing business activities such as development, manufacturing and sales with environmental conservation
Environmental Policy
Environmental Philosophy
Recognizing the important issue to pass on the blessed global environment to the next generation, we make effort for environmental conservation activities based on our management philosophy that "We will use our unique wisdom and technology to create a sustainable earth and a safe, secure and prosperous society".
Environmental policy
In business activities such as research, development, manufacturing, and sales of environmental materials and industrial materials, we will build and operate an environmental management system, and strive for continuous improvement and prevention of environmental pollution.
We will comply with environmental laws and regulations, ordinances and other requirements that we agree to.
Among the environmental impacts concerning our business activities, products and services, we will work on the following items as important themes.
(1)Promotion of energy saving and resource saving
(2)Reduction of waste
(3) Promotion of recycling
(4)Development of environmentally friendly technologies and products
In order to achieve this policy, we will set objectives and goals for each item, implement them, and review them regularly.
(This policy will be made known to all employees and will be open to the public.)
Establish March 1, 2005
Revised September 21, 2018
MAEDAKOSEN CO., LTD
Representative Director Takahiro Maeda
Acquired ISO14001 certification
MAEDAKOSEN has acquired ISO14001 certification at its Fukui Headquarters Factory, Maruoka Factory, Sabae Factory, Notogawa Factory, Nishinomiya Factory, Kasuga Factory, and Sakai Factory as part of its quality control efforts.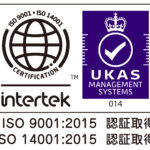 | | |
| --- | --- |
| Management system | Environment : ISO14001 |
| Acquired places | Fukui Headquarters Factory, Maruoka Factory, Sabae Factory, Notogawa Factory, Nishinomiya Factory, Kasuga Factory, Sakai Factory |
| Applied standard | ISO14001:2015 |
| Registered on | December 26, 2005 |
| Certified by |  intertek |