Reinforced soil wall method
ADEAM Wall
Semi-recommended technology by MILT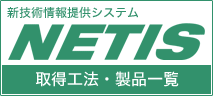 New Technology Information System (NETIS) Registration Number:KK-020061-VE 2015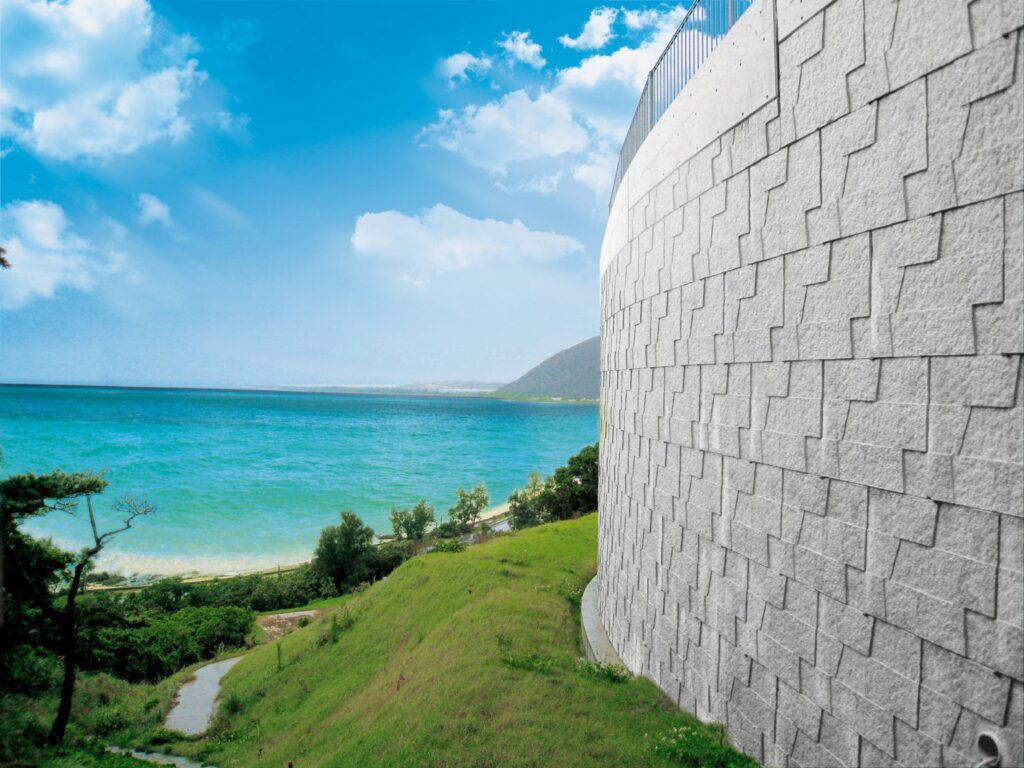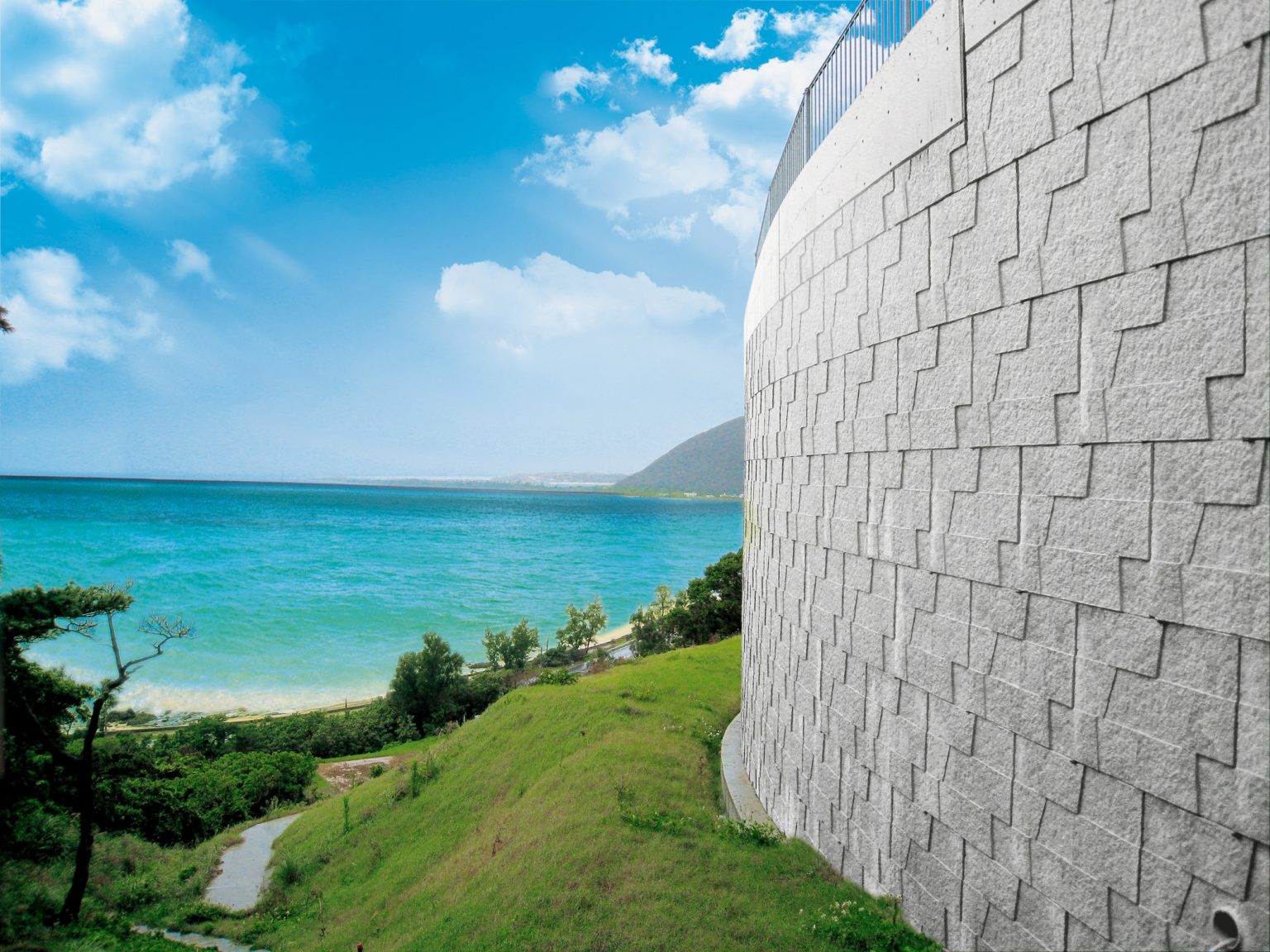 Outline
ADEAM Wall creates a strong, beautiful and
stable concrete wall structure with
a unique "double wall structure".
ADEAM Wall is a geotextile reinforced soil wall that has a double wall structure of an outer and an inner wall, using "ADEAM" and "grid belt" as reinforcement materials.
Since a space is provided between the outer wall and the inner wall during construction, the earth pressure caused by the compressive deformation during compaction of the embankment material does not act on the outer wall. Therefore, the embankment material can be sufficiently compacted to the vicinity of the wall surface, and a high-quality embankment can be constructed.
This double wall structure provides excellent maintenance to repair or replace the wall material easily.
Supplementary material
Characteristics
An unique wall structure : Creates a strong, beautiful and stable concrete wall structure with an unique "double wall structure".
Excellent seismic performance : It has excellent earthquake resistance and durability, and quick and economical maintenance is possible in the event of a disaster.
Equipped with advanced technology : It can be equipped with optical fiber that can evaluate the stability of the embankment
Excellent durability : This is the construction method that can withstand harsh weather environments for a long period of time.
Standard type [Wall gradient 1 : 0.0][Wall gradient 1: 0.1 to 1: 0.5]
It is a type that constructs an outer wall and an inner wall at the same time. Applicable for a stable foundation ground.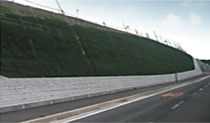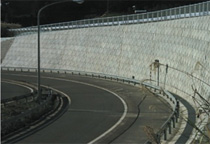 ADEAM Wall Two-step of inner work and outer work separated construction type
It is a type that constructs the inner wall prior to the outer wall. Applicable on the ground where subsidence is a concern.
Since the outer wall can be constructed after the consolidation settlement of the foundation ground has converged, no hazardous deformation occurs on the outer wall.
ADEAM Wall introduction video
Main materials
Concrete panel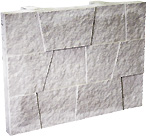 π-shaped concrete panel with improved stability and workability that creates a beautiful appearance with a geometric pattern on the surface
Embankment/ground reinforcement geogrid ADEAM
It is the definitive geotextile for embankment / ground reinforcement, and widely used in various applications. HG type is used.
Standards / characteristics
Type
Product No.
Mesh size
(mm)
Width
(m)
Length
(m)
Quality control strength*1
(kN/m)
Elongation
(%)
Product standard strength*2
(kN/m)
Creep strength
(kN/m)
HG
HG-36
100×28
1.2
30
36
4.5
34
22
HG-50
100×28
1.2
30
50
4.5
47
30
HG-60
100×28
1.2
30
60
4.5
57
37
HG-80
100×28
1.2
30
80
4.5
76
49
HG-100
50×28
1.2
30
100
4.5
93
60
HG-120
50×28
1.2
30
120
4.5
112
72
HG-150
50×28
1.2
30
150
4.5
139
90
HG-200
50×28
1.2
30
200
4.5
185
120
* The mesh size indicates "warp x weft".
* Quality control strength and Elongation indicate "warp"
*1 Standard strength in quality control tests (Specimen width: 1 strand, tensile strain speed : 50%/min) to check the quality during ADEAM HG Type production
*2 Standard strength in designing reinforced soil which ADEAM HG Type is applied. Determined by performance evaluation test with a specimen width : broad-piece (22.4cm), tensile strain speed: 1%/min.
Grid belt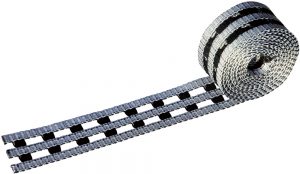 polyester belt-shaped geotextile. It connects the outer wall and the inner wall, prevents the outer wall from extrusion or overturning, and reinforces the inner wall.
Inner wall sheet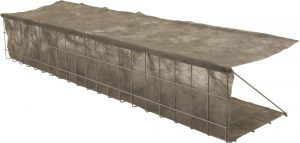 It is placed in front of the inner wall to prevent the embankment material from spilling into the wall drainage layer.
Steel frame
By separating the wall material and embankment, rolling compaction near the wall surface can be sufficiently conducted.
Related products / construction methods