Fiber Sheet Jacketing Reinforcement Method
A&P Seismic Reinforcement Construction Method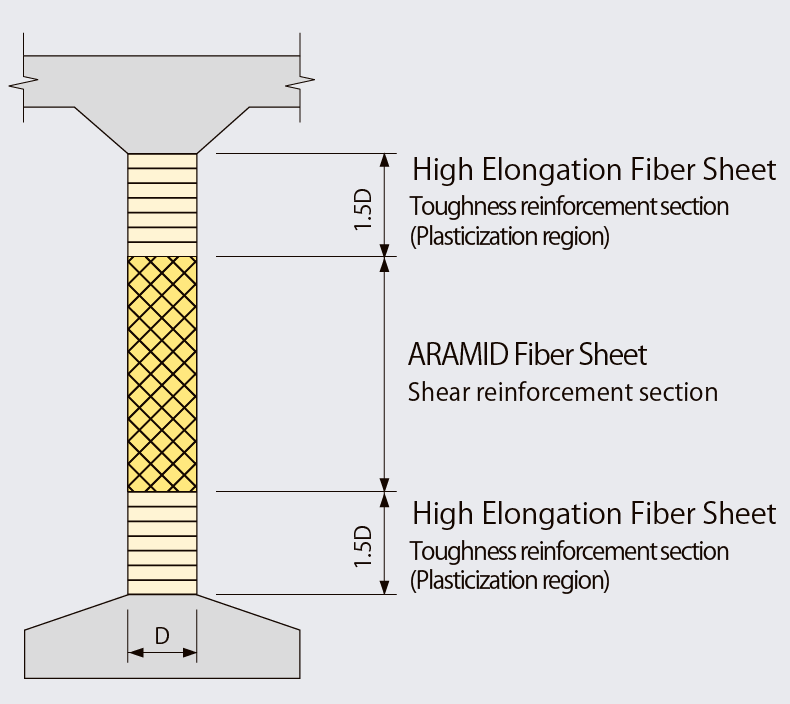 Outline
It achieves outstanding cost-effectiveness with
ARAMID fiber and High elongation fiber
The A & P Seismic Reinforcement Construction Method uses aramid fiber which has high rigidity and is widely used for repairing and reinforcing concrete, and high-elongation fiber sheet (PET fiber or PEN fiber), which has excellent high elongation, as reinforced concrete columns. It is a construction method in which FRP is used for the members and wound up to reinforce the reinforced concrete bridge. By effectively using the characteristics of each of the two types of fiber sheets, it is possible to achieve excellent seismic retrofitting while significantly reducing construction costs compared to conventional seismic retrofitting methods.
High Elongation Fiber Sheet can be applied to reinforcement section against large deformation of the top and bottom pillar, and ARAMID Fiber Sheet to the middle section against shear reinforcement.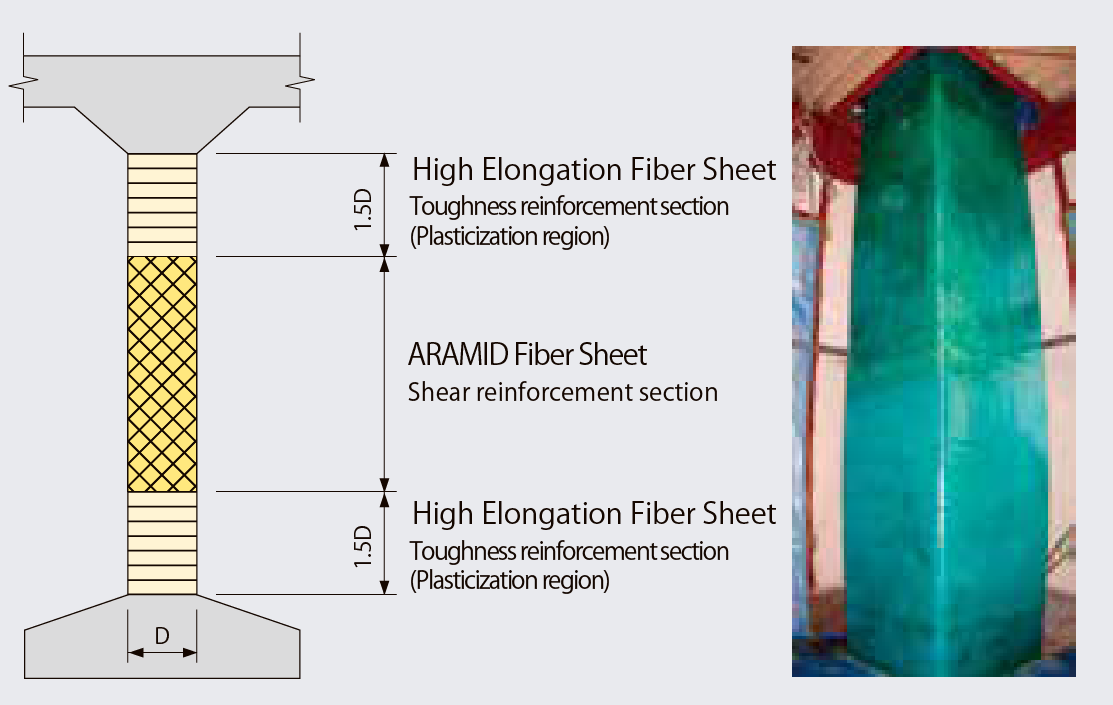 Characteristics
The seismic performance of concrete rod members can be satisfied with "seismic performance II" for level 2 and seismic motion spectrum 2.
No large machine is required for construction. It can be used for seismic reinforcement work in a narrow space and has excellent workability.
The size increase of the pillar part after construction is about 10 mm to 30 mm for each of the paint finish and the fireproof finish. There is almost no weight increase.
Effective use of two types of fiber sheets enables seismic reinforcement at the same low cost as steel sheet jacketing work (see the figures below) * Steel sheet jacketing depending on the performance and shape of the concrete rod member before reinforcement. It may be more expensive than the construction method.
800×800mm cross section:pw=0.21%, σn=1.0N/mm2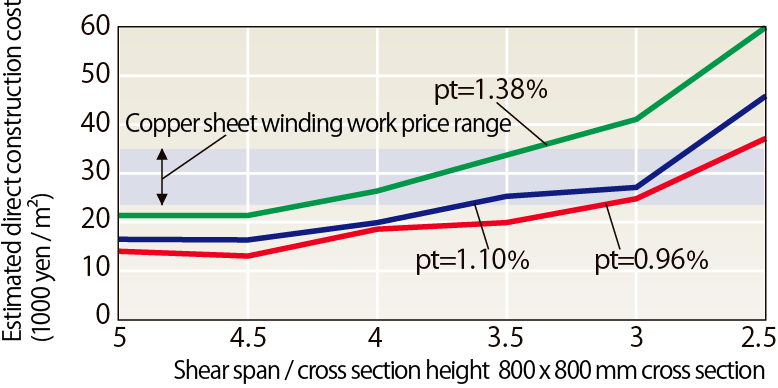 1,000×1,000mm cross section:pw=0.17%, σn=1.0N/mm2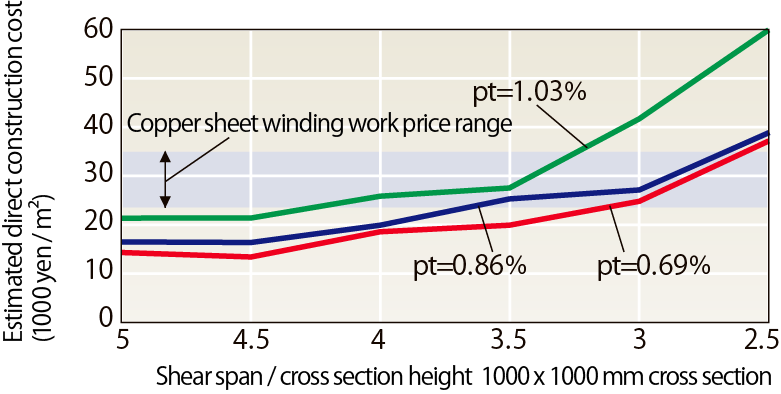 Relation between "Estimated direct construction cost" and "Shear span / cross-sectional height" of A & P seismic reinforcement method
Main materials
High elongation fiber sheet
Excellent high elongation greatly improves low toughness of reinforced concrete column members
High elongation fiber sheet, Product number / standard
 
Product No.
Proof stress
(kN/m)
Nominal strength
(N/mm2)
Young's modulus
(kN/mm2)
Elongation at break
(%)
Weight per area
(g/m2)
Thickness
(mm)
PET fiber sheet
PET600
600
740
10±1
7% or more
1,161
0.841
PET900
900
1,742
1,262
PEN fiber sheet
PEN600
600
790
15±2
5% or more
1,158
0.848
PEN900
900
1,737
1,272
Aramid fiber sheet
Flexible and tough non-conductive, non-magnetic, high cut-resistance reinforcing fiber sheet
Aramid fiber sheet Product number / standard
 
Product No.
Proof stress
(kN/m)
Nominal strength
(N/mm2)
Young's modulus
(kN/mm2)
Elongation at break
(%)
Weight per area
(g/m2)
Thickness
(mm)
Aramid1 fiber sheet
AW400
400
2,100 or more
118±15
1.8
280
0.193
AW600
600
415
0.286
AW900
900
623
0.43
AW1200
1,200
830
0.572
Aramid2 fiber sheet
AT400
400
2,400 or more
78±15
3.0
235
0.169
AT600
600
350
0.252
AT900
900
525
0.378
AT1200
1,200
700
0.504
Other application
Seismic reinforcement for railway viaduct pillars members
Seismic reinforcement for construction structure pillars members
Rigid frame bridge pier of road bridge
Related products / construction methods