Fiber sheets for repairing and reinforcing concrete
High Elongation Fiber Sheet
Railway Technical Research Institute certified construction method Materials for use in the "A&P Seismic Reinforcement Construction Method"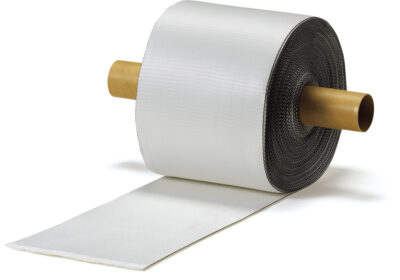 Outline
Excellent high elongation greatly improves low toughness
of reinforced concrete column members
High Elongation Fiber Sheet is used for Seismic reinforcement of various reinforced concrete column members such as railway viaducts. It is characterized by high strength and high elongation at break, and as a main material for the A & P method, it has an excellent effect on reinforced concrete column members, especially for toughness reinforcement. There are two types of polyethylene terephthalate fiber (PET fiber) and polyethylene naphthalate fiber (PEN fiber).
Characteristics
It is made of polyester and has sufficient strength and durability
It has high strength and high elongation at break, and does not break easily even when applied the limit energy of high load.
Good workability due to lightweight and easy handling
The outstanding chemical stability makes the fiber sheets ideal for use in repair and reinforcement as salt damage measures and as acid and alkali resistance measures.
Application
Seismic reinforcement for railway viaduct pillars members
Seismic reinforcement for construction structure pillars members
Rigid frame bridge pier of road bridge
Standard / specification
Product No. /specifications
Product name
Product No.
Proof stress
(kN/m)
Tensile strength
(N/mm2)
Tensile elasticity
(kN/mm2)
Elongation at break
(%)
Base weight
(g/m2)
Thickness
(mm)
PET fiber sheet
PET600
600
740
10±1
7% or more
1,161
0.841
PET900
900
740
10±1
7%or more
1,742
1.262
PEN fiber sheet
PEN600
600
790
15±2
5%or more
1,158
0.848
PEN900
900
790
15±2
5%or more
1,737
1.272
Characteristics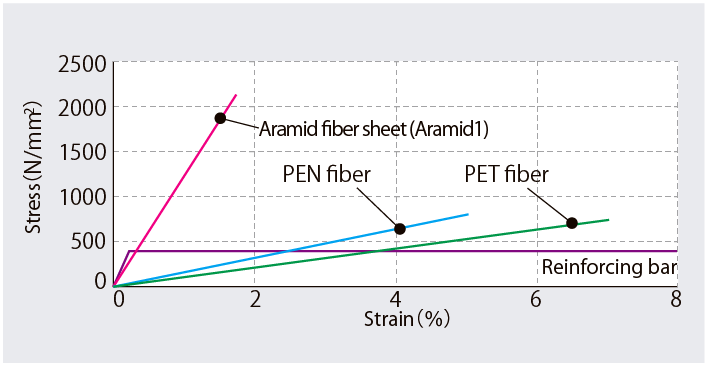 Related products / construction methods