Multifunctional special polymer cement mortar
MAGNE LINE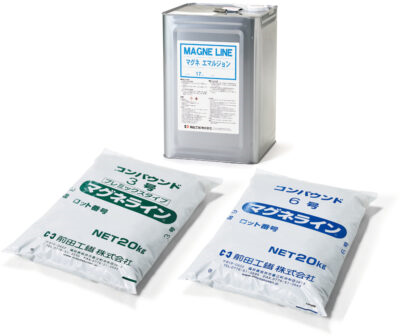 Outline
Inorganic materials with various functions for
reinforcement, repair, and rust prevention
MAGNE LINE is a multifunctional special polymer cement mortar that uses an inorganic main ingredient MAGNE compound and a composite polymer emulsion MAGNE Emulsion.
It has various functions for reinforcement, repair, and rust prevention.
Characteristics
Easy handling and reliable reinforcement
It has passed the water supply equipment leaching test
Excellent aesthetic after reinforcement
It works well with iron and concrete
Available in wet condition
The performance is shown in the manual issued by the PCM Method Association, and it can be checked such as neutralization and salt damage.
Standard / specification
Characteristics of MAGNE LINE
Type I
Type II
Reinforcement method : spraying, brushing, roller coating
Main application : Used as adhesive and primer material
Reinforcement method : Iron coating, spraying (thickening)
Main application : Used as thickener
MAGNE LINE type I
| Item | Standard value | Test value | Test method |
| --- | --- | --- | --- |
| Emulsion: Compound (weight ratio) | - | 1:3.5 | - |
| Unit volume weight (ton/m3) | - | 1.8 | - |
| Adhesive strength (N/mm2) | 1.5 | For iron plate 2.1, for Concrete 3.1 | JIS A 1171:2000 compatibl |
| Freezing and thawing test (%) | - | Relative dynamic modulus of elasticity 97 | JIS A 1171:2000 |
MAGNE LINE type II
Item
Standard value
Test value
Test method
Emulsion: Compound (weight ratio)
6.5 to 7.5
1:6.5
1:7.0
1:7.5
-
Unit volume mass(ton/m3)
-
2.0
2.0
2.0
-
Compressive strength(N/mm2)
30.0
41.2
44.8
54.5
JIS A 1171:2016
Bending strength(N/mm2)
6.0
13.0
12.2
14.7
JIS A 1171:2016
Tensile strength(N/mm2)
-
4.0
4.2
4.4
JIS A 1113:2006
Young's modulus (kN/mm2)
19.0
18.9
19.3
22.5
JIS A 1149:2001
Bond strength with concrete*1(N/mm2)
1.5
2.0
3.0
2.8
Adhesion test of BUILDING RESEARCH INSTITUTE method
Neutralization rate coefficient*2(mm/√year)
-
-
0.17
-
JIS A 1171:2016
Chloride ion diffusion coefficient(cm2/year)
-
-
0.38
-
JSCE-G 572-2007
Curing shrinkage(%)
-
-
0.049
-
JIS A 1129-3*3
Linear expansion coefficient(10-6/℃)
-
-
15
-
JIS K 6911
*The standard value composition is Emulsion: MAGNE compound No. 3 =1:7
*Other test conditions are in accordance with each test method.
*1 : Standard values are SPCM quality standards, which are different from characteristic values.
*2 : Converted to a carbon dioxide concentration of 0.03%
*3 : Conforms to the conditions of NEXCO Structure Management Guidelines 2016 "Performance check items for cross sectional restoration by plastering method"
Related products / construction methods