Oil spill diffusion prevention booms
OK Oil Fence
Act on Prevention of Marine Pollution and Maritime Disaster Conforming product
Ministry of Land, Infrastructure, Transport and Tourism Type- approved products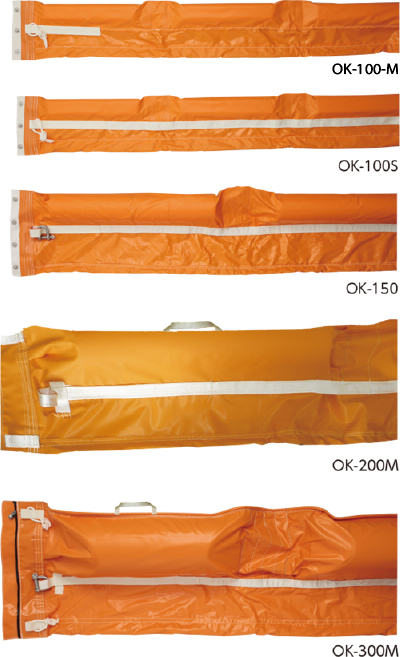 Outline
Prevent oil pollution in the marine environment
Lineups added 4 types of MLIT approved model
OK Oil Fence are available as a wide lineup of products including the Decree A types (OK-200M) and the Decree B types (OK-300L/OK-300M/OK-300AIR) which have received type-approval from the Japanese Ministry of Land, Infrastructure, Transport and Tourism, as well as products for emergency use and for permanent installation. They have good wave-following ability due to the utilization of round-shaped floats. The connection parts utilize fasteners and shackles that comply with the standards of the JIS Standards Association (F9900-2).
Main installation locations
Oil storage facilities including oil depots and oil terminals, harbors and coastlines adjacent to tankers and tanker mooring facilities, sites where oil spills have occurred due to accidents, etc.
Standard / specification

Product No.

Float diameter
(mm)
or more

Under the water surface
(mm)
Length
(m)
Weight
(kg/span)
Package size
L×W×H(cm)
Connection method
Usage
OK-100-M
100
200
20
22
55×70×40
B
Short form・For urgency
OK-100S
100
200
23
55×70×40
B
OK-150
150
300
38
65×100×65
B
OK-200M
200
300
60
110×85×85
F
Decree A
OK-300M
300
400
72
115×150×95
F
Decree B
Item produced by order
OK-300L
300
400
20
82
125×120×95
F
Decree B type
Inflatable type OK-300AIR
300
400
70
70×120×30
F
OK-400
400
500
150
B
Permanent installation type
OK-450
450
700
200
F
Conformed C
OK-600
600
800
240
F
Conformed D
*Connection method:B=Bolts fixing method,F=Fastner fixing method
*OK-100、OK-100S float size 50mm width×100mm height×550mm length
* OK-300L has a protective belt on the side of the float as a measure to prevent the float from wearing.
* Weight and packing dimensions are reference values.
* Customized size and specification products are also available.
OK Oil Fence strength (Decree A type, B type)
Type
Type No.
Product No.
Tensile strength (Main body cloth)
Tensile strength(Tension belt)
Measuring method
JIS standard value
(N/cm)
MDK control value
(N/cm)
JIS standard value
(kN)
MDK control value
(kN)
Decree
A type
No.P-622
OK-200M
294
450
(1350N/3cm)

29.4/pc.
or more
(In case of 1pc.)

19.6/pc.
or more
(In case of 2pcs.)

50X1pc.
JIS F
9900-1
Decree
B type
No.P-370
OK-300L
No.P-634
OK-300AIR
300
(900N/3cm)
45X2pcs.
NO.P-611
OK-300M
450
(1350N/3cm)
50X1pc.
No.P-612
OK-300BT
50X2pcs
Related products / construction methods