Wood plastic composite
Wood deck (Kankyo-woodⅡ)
The warm wooden texture can create an open space with a variety of designs.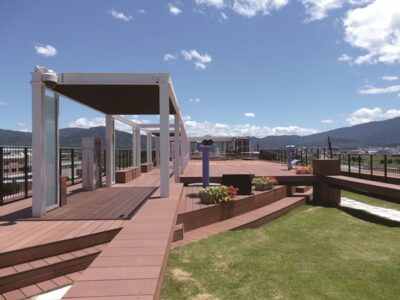 Outline
Wood plastic composite Kankyo-wood II which has excellent antiseptic properties, durability, and slip resistance, is widely used in commercial facilities, educational facilities, public facilities, and housing. In addition, our deck material has anti-statics function and it is free from electrlcity attacks caused by plastic material.
NEW item


Kankyo-woodⅡ -MOKUME-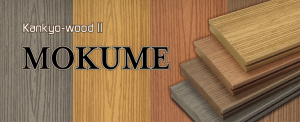 It is a deck material with a real wood grain pattern on the surface of the conventional Kankyo-wood II.
It can be closer to the natural wood texture.
Features
・Performance is the same as conventional products, with slip resistance, antiseptic properties, and static electricity suppression.
・Gives a luxury taste to the wood deck.
・Can be used reversibly, and the back side is a slit surface.
・There are 4 colors available, and the wood grain pattern creates a color tone that is different from the conventional colors.
Related products / construction methods