Confined soil reinforced embankment wall method
ADEAM Geopack Construction Method and ADEAM Geostage Construction Method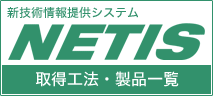 New Technology Information System (NETIS) Registration Number:KK-130036-VE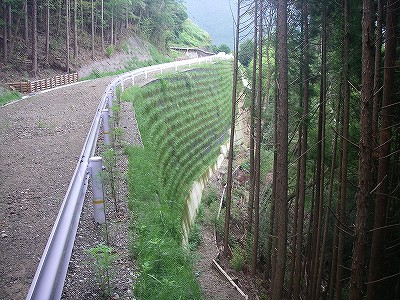 Outline
Confined soil wall construction methods to combine embankment material with geogrid.
ADEAM Geostage Construction Method is a confined soil method using geotextiles. It has excellent compressive strength and is effective as a structure or as a foundation work for structures, since it has a layered structure of "sandbags" that roll-up and confine the embankment material with geogrids. Especially in steep terrain, the excavation work can be reduced and the cost also can be reduced as a result.
Characteristics
Less excavation than conventional reinforced soil walls
Considering the landscape, structure can be greened on the slope 
Possible to select the slope gradient and bottom slab width according to the site.
Lightweight members give good workability in mountainous areas
More economical than traditional concrete structures
Geogrid installation
"Geostage Construction Method" design concept
The "sandbag" type reinforced soil method that rolls up the soil has been proved to be an effective method by the research of Professor Matsuoka group of Nagoya Institute of Technology. The principle is that when the sandbag becomes to flatten due to the load, the circumference of the sandbag increases, tension is generated, and the effective stress σ of the soil inside the sandbag increases. We developed a ADEAM Geostage Construction Method using geotextiles based on the analytical formula "two-dimensional sandbag theory" proposed by Professor Matsuoka.
Main materials
ADEAM for Embankment and ground reinforcement geogrid
ADEAM HG type which is the definitive geotextile for embankment and ground reinforcement in various applications is used.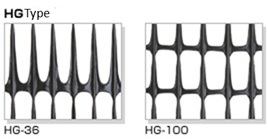 Related products / construction methods