FRP net material for peeling prevention
HARD MESH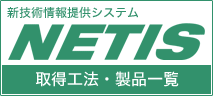 New Technology Information System (NETIS) Registration Number:KT-190006-A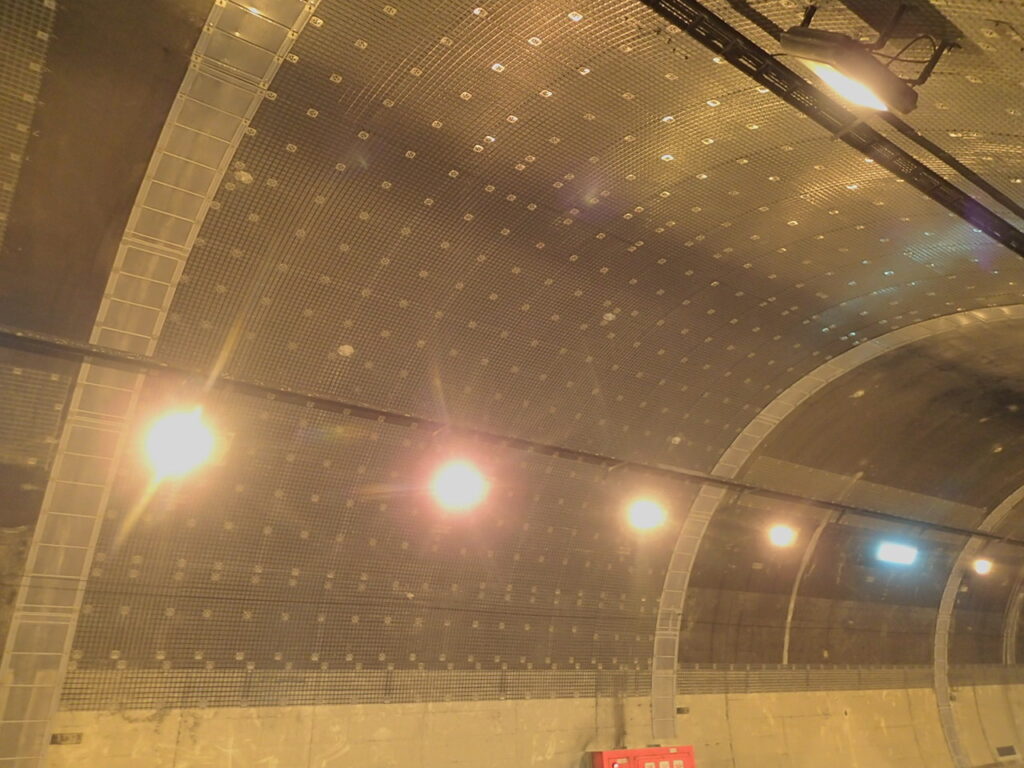 Outline
Thin and high rigid net fits on the frame surface and can prevent concrete peeling.
HARD MESH is a grid material integrated FRP structure and glass mesh for preventing small concrete piece peeling in a tunnel. By fixing it to the surface of the tunnel lining, small concrete pieces are prevented from peeling off.
Characteristics
It has outstanding stiffness even thin because FRP structure is made of carbon fiber grid.
Integrated glass mesh prevents small concrete piece peeling.
Since specialized washer and expansion anchor are used for fixing HARD MESH, it is possible to check the frame near the anchor after installation.
Fixing method
Make sure to use specialized washers and expansion anchors to fix HARD MESH.
The standard fixed pitch of HARD MESH is 500mm.
Install the joints by overlapping one square.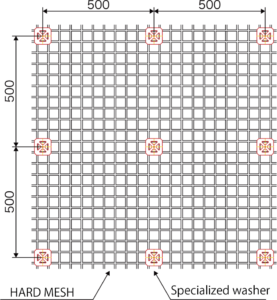 【Precautions】
Be sure to strictly observe the hole diameter of the expansion anchor. It affects anchor strength. Note the case of shallow hole is the same.
Tighten the nut with the recommended torque value.
Wear gloves in handling because the end of the grid and special washer are sharp.
Standard / specification
Standard
HARD MESH
Product No
Cross-section area
(mm2)
Tensile strength
(N/mm2)
Tensile elasticity
(kN/mm2)
Tensile stress
(kN/anchor)
Tensile stiffness
(kN/anchor)
Pitch
(mm)
HM-C11
11.1
1,200
95
13.3
1,054
50×50
Expansion anchor
Product No
Dimensions
(mm)
Material
Hole diameter
Hole depth
Recommended torque value
Remarks
MS-670LN
M6×70
(overall length)
SUS304
6.4mm
65mm
or more
8 to 10N*m
With lock nut
HM dedicated washer
Part number
dimensions
(mm)
Material
Remarks
HM-W75*1.5
75×75×1.5t
SUS304
with opening
* For expansion anchors, consult us if the length have to be changed due to the depth of hole.
* Packing … Expansion anchor: 100 pcs. / box, HM washer : 100 pcs. / box
Performance
Measures against peeling Performance
Fire spread and selfextinguishing properties
Generated gas safety
Pull-out performance (Net-type / Saddle-type Construction Method)
Result
 Fire spread range
Specimen left-right direction
230mm
Mouse action stop time:
14.6minutes
Load displacement
At load 0.5 kN
44.6mm
Top direction of specimen
185mm
Fire spread time
Burning time
10minutes
Fire spread time
0second
*According to the NEXCO test method (Pullout performance test method 737-2011, Fire spreadability / Self-extinguishing test 738-2011).
*A test method that confirms that "no fumes or gases harmful to evacuation are generated" in the Building Standard Law for the safety of generated gas.