Caisson Joint Transmission Wave Reduction Method
Net-Buffer Method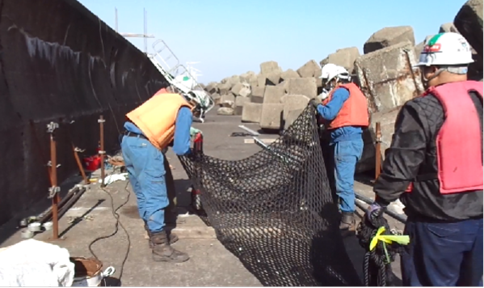 Outline
Caisson Joint Transmission Wave Reduction Method, "Net Buffer Method" is a cooperative research and development between the National Research and Development Corporation, Port and Airport Research Institute, Port and Airport Research Institute, and MAEDAKOSEN CO., LTD., for the prevention of revetment and quay suction, and the collapse control. This is a construction method developed through joint research.
This method eliminates a large-scale construction such as digging up to replace damaged sand protection board, and enables significant cost reductions. This technology can be applied to the deteriorated caisson revetments and quays nationwide, and it has a 80% or more reduction effect of joint transmission wave power and a collapse controll effect. In addition, since the cushioning material is made of fiber, it can follow the entire joint and maintain its function even when the caisson moves due to an earthquake or high wave, which was a problem with conventional control work.
Characteristics
Repair behind the caisson : It is difficult to repair the part below the water level, but it is possible to construct the entire caisson height from the joint.
Can follow the changes in gaps : Since the cushioning material is an aggregate of nets, it has excellent on-site shape adaptability and can follow even if the caisson moves.
Life extension of sand plate : The life of the sand plate in use is extended because the acting external force is greatly reduced.
No need for large-scale repair : By installing near the damaged sand plate, the suction prevention function of the damaged sand plate is restored, large-scale repairs can be avoided, and the construction period can be shortened.
Easy constructio : Easy construction is possible by simply dropping the cushioning material (net) from the opening.
Material safety : A net material with excellent impact resistance, corrosion resistance, cushioning effect, self-deterioration, and followability.