The geotextiles for RRR method
FR Grid / RRR method
Geotextile product
Certified product by Railway Technical Research Institute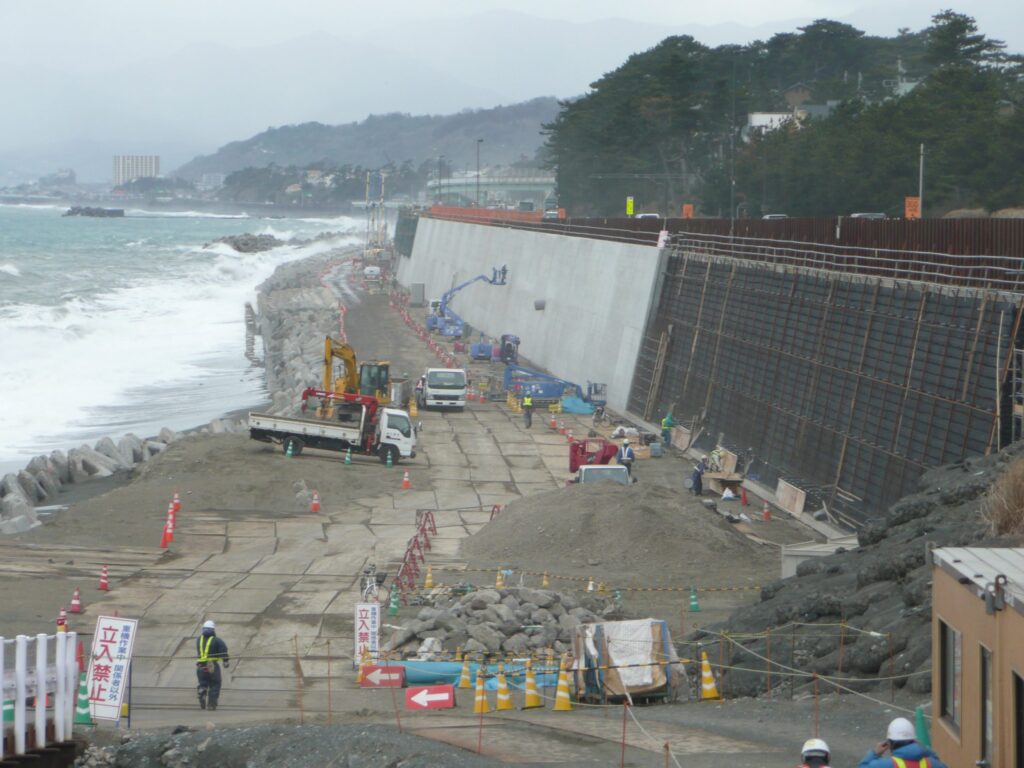 Outline
Highly durable, sheet type reinforcement for embankment with high-strength vinylon fiber
FR Grid is a geotextile coated with a high-strength vinylon fiber grid. It was developed for the RRR-B construction method (reinforced embankment method), in which the slope can be constructed vertically using the embankment reinforced by geotextile and the rigid wall surface.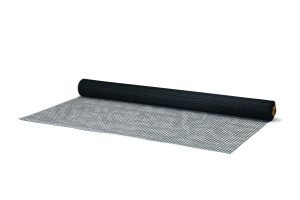 Protect the safe operation of railways with geotextiles
The RRR method is a reinforced soil method developed by Railway Technical Research Institute.
A geotextile reinforced embankment is constructed in advance, and a cast-in-place concrete wall surface shall be constructed after the embankment and foundation ground have stabilized. It is possible to construct a concrete integrated wall with excellent safety. This method has many achievements in Shinkansen, conventional lines and private railways.
Characteristics
Highly strong and suitable for embankment reinforcement
Excellent weather resistance, chemical resistance, cold resistance and heat resistance
Excellent resistance to damage during construction
It maintains sufficient strength against momentary loads during earthquakes and repeated train loads
Application
As sheet type reinforcement for reinforced embankment method (RRR-B method)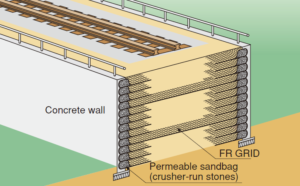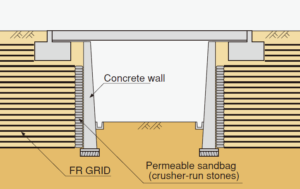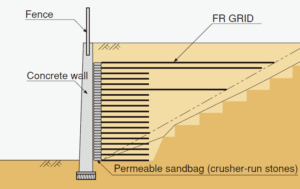 Standard / specification
Standard / specification
Product No. 
Material
(base cloth)
Weight
(g/m2)
Mesh
(mm)
Width of string of warp direction
(mm/strand)
Width×Length
(m)
FR-30W
Vinylon
320
21×15
3
2×50
FR-60W
Vinylon
600
23×15
7
2×50
*The mesh size indicate "warp x weft"
Design value
Product No.
Ta
Taj
Tai
Tae
Ks
Quality control strength
(kN/m)
Firm design strength
(kN/m)
Temporary design strength
(kN/m)
Seismic design strength
(kN/m)
Spring value for wall stress calculation
(kN/m)
FR-30W
41
20
35
35
490
FR-60W
81
40
69
69
980
* The above figures are the results of a certification test conducted by the Railway Technical Research Institute.
* Reduction coefficients αj, αi, and αe are values for the product warranty value Ta.
* Ks is a 5% strain value (calculated from the tensile test in the air)
Main materials
Member for RRR method
| | |
| --- | --- |
| Standard type welded wire mesh | Fixing pin |
| | |
| Drainage sheet | Drainage bag |
| | |