Garbage / floating grass / driftwood prevention fence
OK Net Fence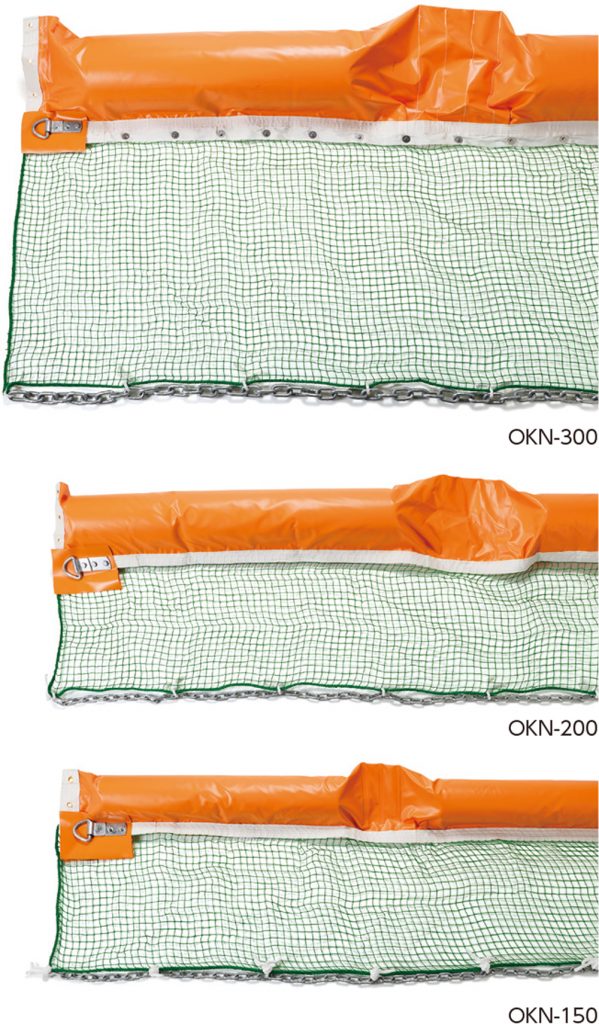 Outline
Protect equipment from driftwood,
shut out jellyfish at the beach
OK Net Fence protects the intake facilities of rivers and dams from dust, floating grass and driftwood, and is also used to prevent the invasion of jellyfish and sharks at beaches and fishing grounds. The depth, material, texture, etc. of the net can be specified according to the usage conditions. Excellent workability due to the lightweight.
Main installation location
Intakes of dams, waterworks, factories, power plants, beaches, fishing grounds, etc., Click here for supplementary materials
Standard / specification
Specification
Product number
Floats
Float cover
Net
Diameter x Water depth(mm)
Material

Thickness

(mm)

Tensile strength

(N/3cm)

Material

Mesh

(mm)

Diameter

(mm)

Net length

(mm)

Material
OKN-150
ø150
Expanded polystyrene
0.7
1,350 or more
PVC tarpaulin
25×25
ø2.4
500
Polyethylene
OKN-200
ø200
OKN-300
ø300
0.9
1,961 or more
1,000
OKN-400
ø400
1.0
2,941 or more
48×48
ø5.0
1,500
OKN-600
ø600
2,000
* Any combination of net length, material, mesh, and diameter can be used.
* Depth 3m ~, diameter ø2.0 to 6.0mm to prevent jellyfish and sharks from entering.
Related products / construction methods