Importance of scouring prevention and foot revetment for Offshore wind power generation monopile foundations
When a monopile (steel pipe pile) is placed on the seabed ground in the landing foundation of offshore wind power generation, the surrounding seabed ground is washed by waves and tidal currents. Especially in the case of monopile, the flow velocity becomes faster and vertical flow also occurs, so scouring becomes remarkable near the monopile.
If any measurment against scouring has not been taken,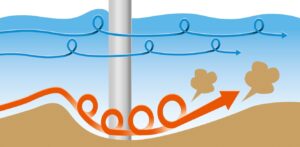 the scouring depth around the monopile may exceed the diameter of the monopile.


and leads to the tilt of the windmill
The scour protection with "Powerful Unit"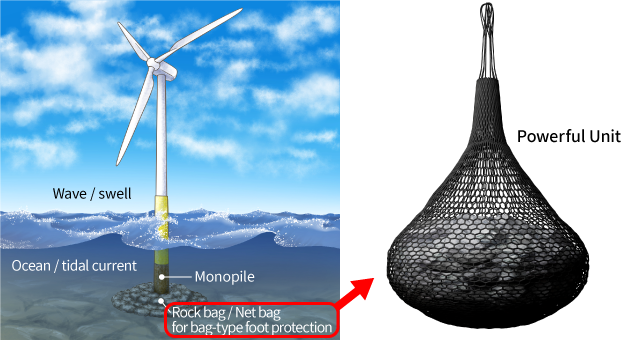 Rock bag / Net bag for bag-type foot protection "Powerful Unit", that has been developed as a countermeasure against erosion of breakwaters and river embankments, is expected the potential to be used to the scouring area around the bearing structure of offshore wind power generation farm, from the viewpoints of safety, workability, maintenance, and economy.
Advantages of the bag materials
The monopile can be stabilized by following the scouring of the ground.
Since the crushed stone is contained in the bag material, they will not scatter due to waves and tidal forces.
Easy to manufacture and install, shortening the construction period
Filling boulders in the bags does not require skilled workers
Easy to maintain and economical
Rock bag / Net bag for bag-type foot protection, "Powerful Unit"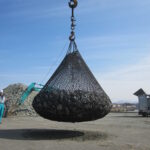 Bag material that can be used in the sea and lakes where the effects of waves are a concern
"Powerful Unit" is a bag material that uses polyester fiber. Its net strength and excellent durability prevents wear and breakage of the net caused by the boulders and driftwood. It can be used as a revetment and a bridge pier foot protection work and an emergency flood control material.